---
STV Presentation -
TVNerd
- 16-10-2022
Apologies if this is too minor for a new thread but I couldn't find an existing STV thread.
Bean is currently going out on STV with an ITV DOG, I'm watching on Freeview HD in Central Scotland so there's no way to pick up ITV by mistake.
Edit: going into the ad break, we got an ITV "Back Soon" bumper, followed by an "VW sponsors STV Movies" sponsorship and then an ITV break bumper, perhaps their clean feed isn't available?
---
RE: STV Presentation -
GMc
- 16-10-2022
That mght have something to do with STV broadcasting during the ITV Breakfast slot yesterday with the Rugby World Cup. This will probably be ITV taking back their airtime.
---
RE: STV Presentation -
Milkshake
- 16-10-2022
This also happened before a few years ago, STV got the adverts slot during the Football or Rugby which went out during GMB, and in the middle of the afternoon were showing the film "The witches" it followed the same patten Ie ITV London feed.
Next big Question: When will STV finally update its presentation as its nearly 9 years old, of course were still another 6 years away from breaking the 15 year record for "STV" Version 1...
---
RE: STV Presentation -
Milkshake
- 01-12-2022
STV has started its xmas pres today. Just spotted the break bumper.
---
RE: STV Presentation -
Milkshake
- 02-12-2022
Yes its the same idents, for the past 5 years.
---
RE: STV Presentation -
Andrew Wood
- 15-12-2022
Irn-Bru's snowman is back again, sponsoring STV
https://theident.gallery/player.php/STV-2022-XMAS-ID-IRNBRU-8S-1-141222
---
RE: STV Presentation -
Si-Co
- 16-12-2022
A few STV-related questions.
Correct me if I'm wrong here, but is STV now legally an "affiliate" of ITV Plc, and pays a flat fee for a programme supply/network feed whether they show specific programmes or not?
As for advertising, do they sell their own slots or is this done by ITV Plc, to facilitate nationwide slots etc? Do STV pay a certain percentage of advertising revenue to ITV Plc?
As for ITV's multichannels shown in the STV area, are these completely independent of the STV-ITV relationship, and ITV Plc has the rights to broadcast these channels nationwide? I ask because sometimes "affiliation" in the USA or Australia, for example, extends to multichannels and the affiliate occasionally inserts local content into those channels.
---
RE: STV Presentation -
Milkshake
- 16-12-2022
Question 1:
https://www.campaignlive.co.uk/article/itv-stv-utv-agree-new-network-arrangements/1120504
Question 2: See above but there is scope for STV to have its own Sponers on certain programmes.
Question 3: STV sold off the rights to S2 to ITV2. STV does not carry any promos for ANY ITV digital channels.,
---
RE: STV Presentation -
scottishtv
- 30-03-2023
Spotted a short promo that ended like this today: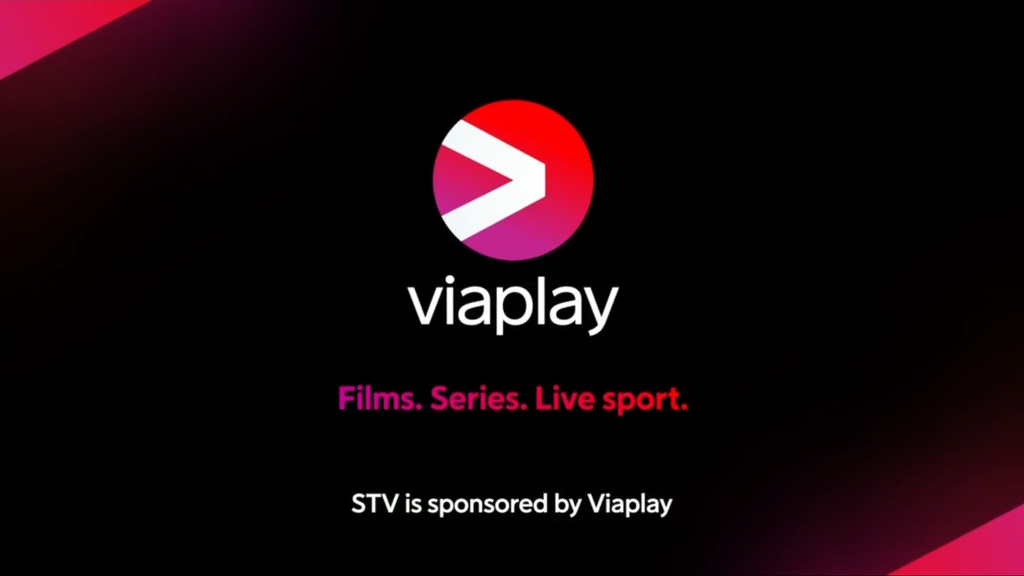 It's the first time I've seen a linear TV channel sponsored by a streaming app (especially one that isn't owned by them!).
Obviously it suits Viaplay as they have some Scottish football rights, and I suppose STV might not care that much as they'll never buy those sports rights themselves.  It's still quite interesting because the Viaplay promo also focused on movies and boxsets which is direct competition with the STV Player.
---
Globaltraffic24 -
Globaltraffic24
- 31-03-2023
I've been watching Viaplay's move into Scotland closely. Now they have Scottish football rights, their presence in pubs, on billboards etc is huge. It's become a household brand in Scotland overnight. I wouldn't be surprised if we don't see a Viaplay agreement with STV in the near future or possibly even a buyout of STV.
---