Before Radio 1 switched to FM, I used to listen to Marcher Sound (set up by some local coal miners with their redundancy money!) and had a sticker with this - to me - iconic logo on my bedroom window, together with a mug.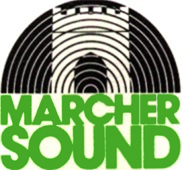 And then it split its frequencies and became young and trendy MFM 1034 on FM and Marcher Gold on AM - I can remember how excited I was at the time. It was a bit weird how they set the 1034 as it was actually 103.4, but one air referred to as "MFM ten thirty four".
Here's the original pink & grey MFM logo - which again I had on a sticker on my bedroom window and the accompanying mug.