The new season of BIg Brother Canada begins tomorrow. The biggest change this season is they have decided to drop the livefeeds and instead they will post "hours and hours of video online called Video Dailies. Its been a huge thing withing the BBCAN fandom. They claim its to protect the houseguests mental health. From what I gather from host and exec producer Arisa Cox, the team that produces the show didnt want this change but they were pushed by Global, the network, to do it. She is a super fan and feeds watcher like us. So I know she wasnt happy about it either. The fans are not happy. (I type more, but Im personally disgusted, as they dont have a great track record of putting together a good story edit)
ANYWHOOoooo.
The new house has been posted tour with Host/Exec Prod Arisa Cox has been posted. The theme this year is a mysterious house. Apparently there is meant to be secrets in the walls. Sounds like Traitors, but its likely this was already in the works before Traitors became a hit. SO there's that comparison. They have done some reconstruction work. Not a lot. Basically the stair case has completely been reconfigured. It fits the theme. I  have to say they did art deco well. Because Celebrity Big Brother did a grand art deco look and of course everything was completely dark and drab. This is art deco done right. One area that bears watching is the library... as you'll see in the video tour.
twitter.com
Main entrance and living view with new staircase doorway. The library is the door on the lower floor to the right, that used to be the old HAVE-NOT room the door to the right should still be the diary room entrance. It seem as though the nomination room has been removed. It was always located to the left. Seems to be a sitting nook. On the upper to the left of the entrance is the communal bathroom and 2 bedrooms are located off to the left. The double doors to the right is the HOH room. The stairs used to descend down just to the right of the HOH door.  Seems there is a balcony that goes around the entire upper level. Buts its hard to confirm as we havent seen a shot of the livingroom from the main door.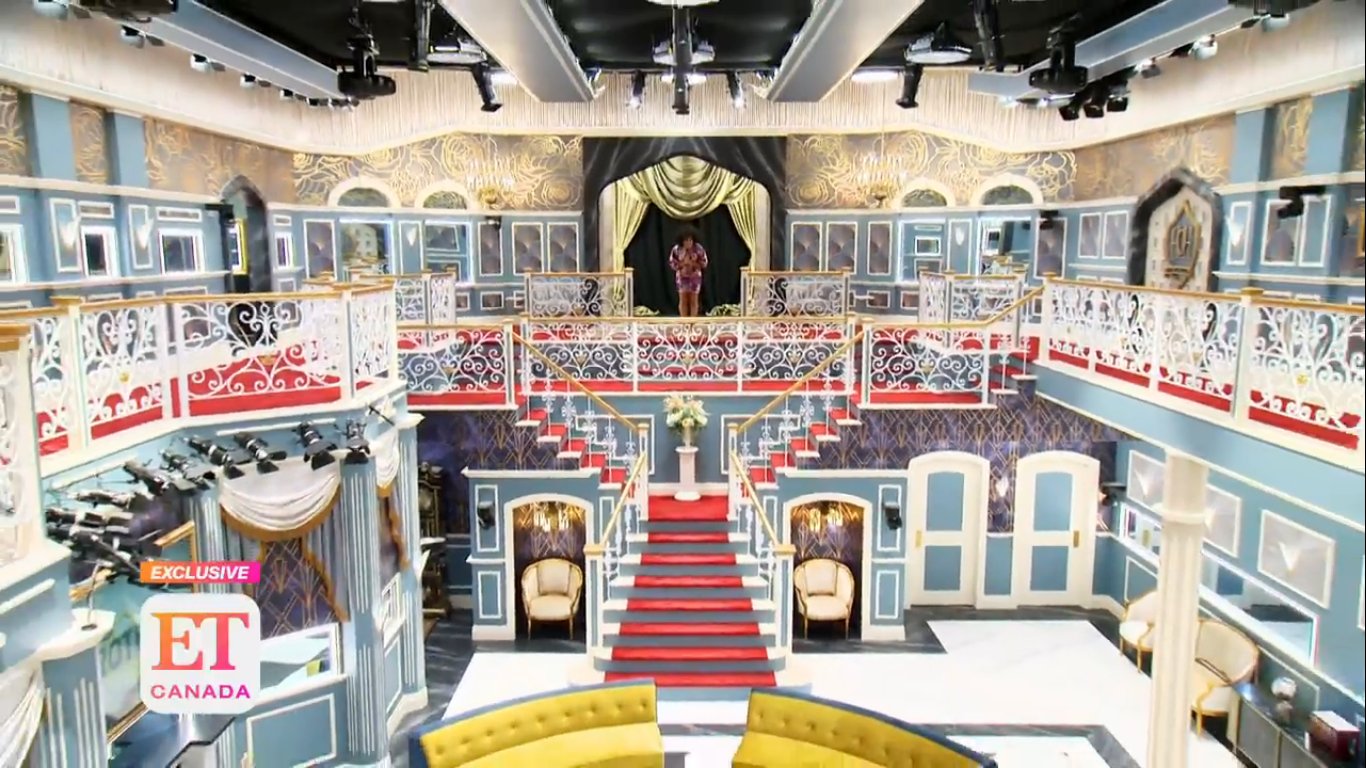 HOH Entrance
Parlor
Bedroom doors
Kitchen
The backyard into the house with this years stainglass "Eye"
Bathroom
Flamingo Bedroom
Toucan Bedroom
Dairy Room - no signature chair this year and a mural background.  Not awful but it still looks interesting
Dairy Room Corridor
Outdoor hot tub/smoking area with entrance back to house
Library with apparently 1000s of books with blank pages
Living Room